IV therapy- New proactive health care solution standardized by global trend
The hustle and bustle of modern life probably makes you up to your ears in work, as a result, you spend no time caring your own health. Are you looking for a fast and comprehensive health care method so that you can take the best care of yourself and save your time?  IV Therapy, a proactive health care therapy chosen by thousands of customers around the world is definitely your ideal health care option.
IV Therapy Introduction
IV Therapy is known as an intravenous nutrition method to administer nutrients, vitamins and medication into the body without the involvement of digestive system. Ingredients are infused directly into the blood vessel, providing 100% ingredients absorption, and the effectiveness is fully achieved.
This is a long-standing and important medical technique with the purpose of body detoxification and fast recovery especially when someone is recovering from sickness, debilitated and exhausted condition due to excessive exercise or  old age.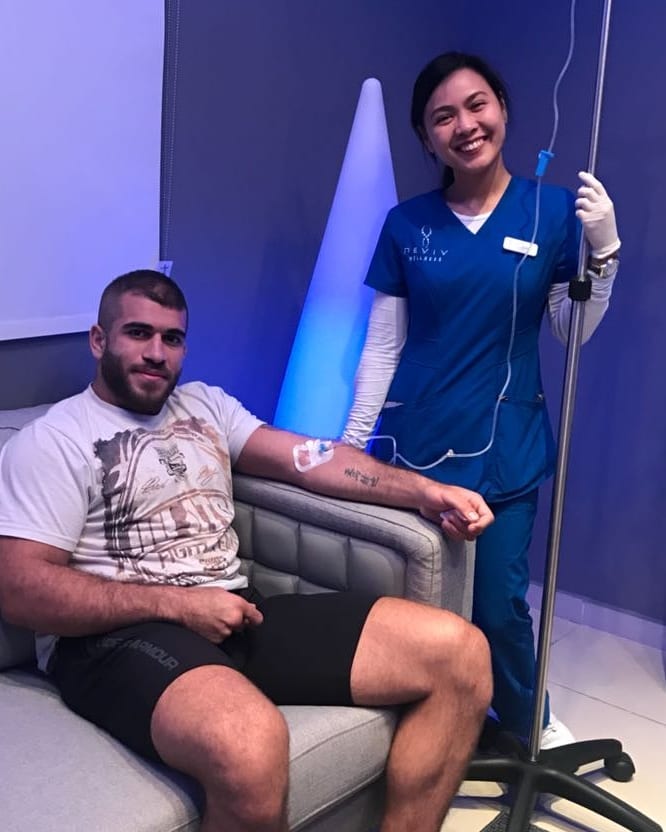 Currently,  IV Therapy is widely popular around the world, it is not only a technique applied in hospitals or medical facilities but also a developed separate service with large scale application and being as popular as spas or clinics.
IV Therapy Highlights
Vietnamese people have a habit of taking tonics, supplements and nutritious foods when curing diseases and wanting to improve health. However, before being absorbed into the body, these nutrients have to undergo digestion process, therefore, the amount of nutrition absorbed by body is dramatically reduced and it takes a longer time for the body to absorb nutrition.
At that time,  IV Therapy is the most ideal choice because it directly supplies body with nutrients, vitamins, and electrolytes.There is not a single amount of nutrients lost yet absorbed 100% through the bloodstream quickly and completely , providing the most comprehensive and optimal effectiveness: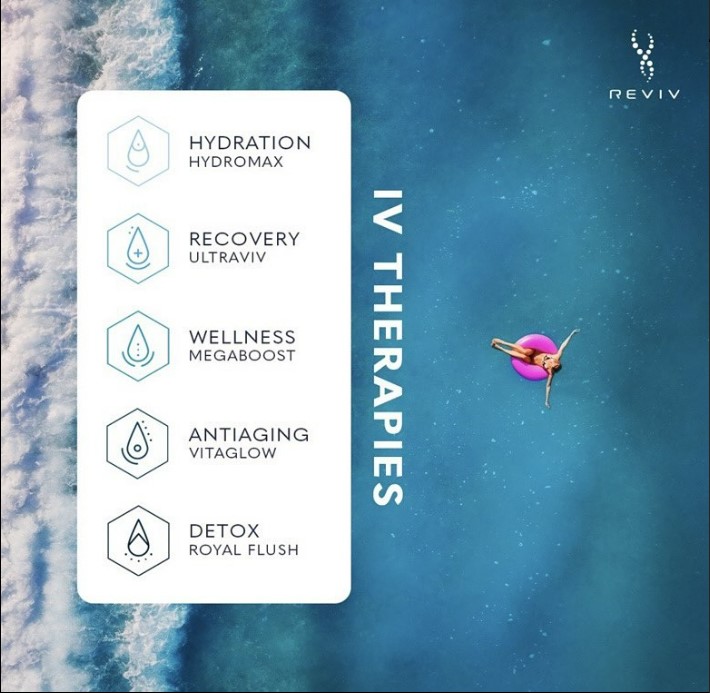 – Triple the speed of detoxification and recovery of exhausted body.
– Benefit the body with antioxidants .
– Prevent stress
– Prevent free radicals that is the main cause of cancer and the aging process
– Strengthen antibodies and reinforce the human body resistance
– Boost energy and rejuvenate cells
– Relieve stress symptoms and better mental health
– Improve sleep quality, eating-related issues, and reduce fatigue
– Ensure internal organs' functions and their detoxification
– Prevent stroke, cancer, diabetes, cardiovascular disease.
Why IV Therapy at Reviv?
Reviv is proud to be a pioneer in popularizing IV Therapy
With more than 40 years of clinical experience, the doctors having established Reviv deeply understand that the combination of infusion fluid is the key to the breakthroughs that enhance people' health. There is a principle always followed at REVIV: Focus on Research and Development (R&D) of the ingredients combination in IV treatment and prioritize the best training of medical staff.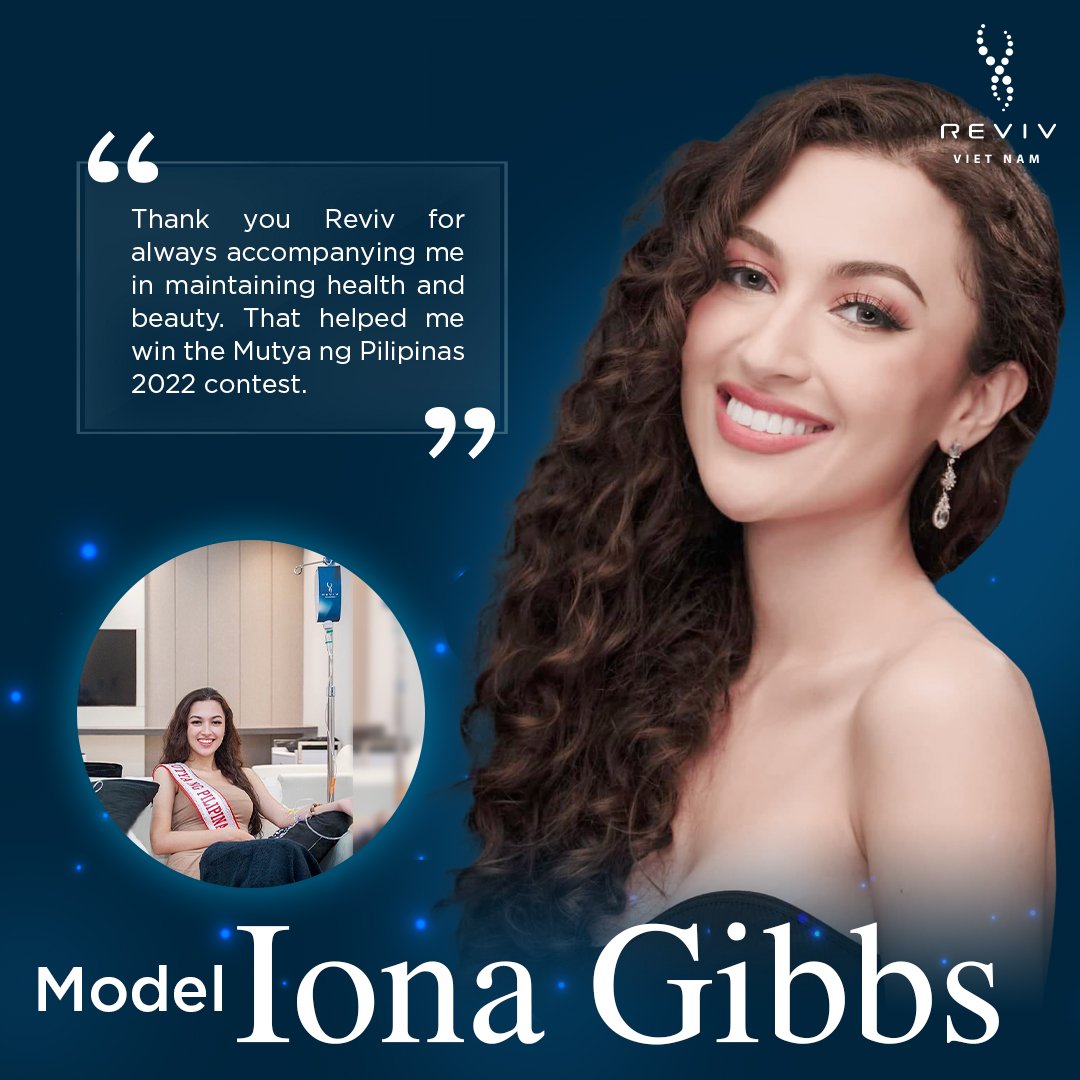 Up to now, REVIV has been significantly contributing to the World Health in terms of nutritional infusion field and paving the way for enhancing the human health.
It has been 21 years since the first launch REVIV, the greatest health care system in the world, has owned 159 branches located at more than 45 countries, offered treatment to approximately 15,000 people around the world every day, which means there are 250 customers on average experience REVIV IV treatment every hour. REVIV's mision is to bring wellness and happiness for all people around the world.
If you are struggling with health problems or want to learn more about IV Therapy, please contact  REVIV Vietnam for a health consultation with experts, doctors and a suitable IV treatment.
Fanpage: facebook.com/Reviv.vietnam
Vietnamese website: reviv.com.vn
International website: revivme.com
Hotline: 1800 58 58 22.
Tin tức liên quan
Tin tức & sự kiện