IV THERAPY – A GLOBALY POPULAR HEALTH CARE SOLUTION
IV therapy has been a health care solution from the inside which can be considered to be the most popular health care service and has been promoted by Hollywood and Vietnam stars. So, what is IV therapy and what make IV Therapy " a favorite health care solution" for millions of customer globally?
What is IV Therapy?
IV Therapy with IV standing for Intravenous is an infusion technique  that directly administer nutrients such as anti-oxidants, vitamins and minerals into a person's body through their veins without the involvement of digestion process.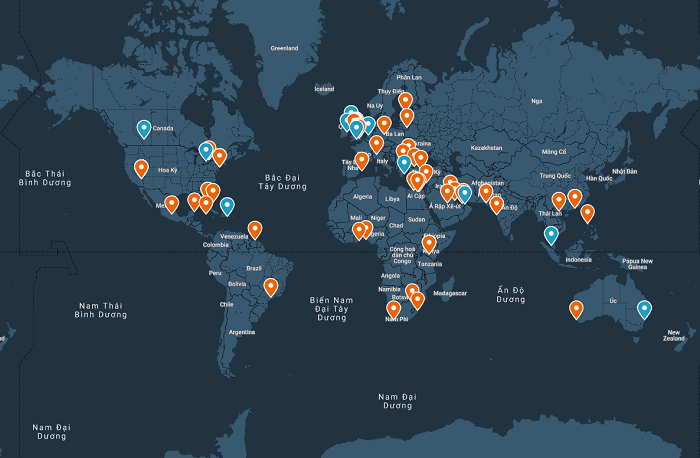 IV Therapy has been popular in over 70 countries around the world.
Customers when using IV treatment will firstly get anaesthetic spray at the area where the vein located, therefore it is not a big deal when a nurse insert a needle into a vein, it's probably just like an ant bite. The nurse then insert an IV cannula into a vein to administer nutrients into the body which can take 30-60 minutes to finish the fluid bottle. Cannula is a thin and soft tube that is flexible in the vein; therefore, customers can move their arm comfortably. As a result, customer can stay relaxed during the treatment time.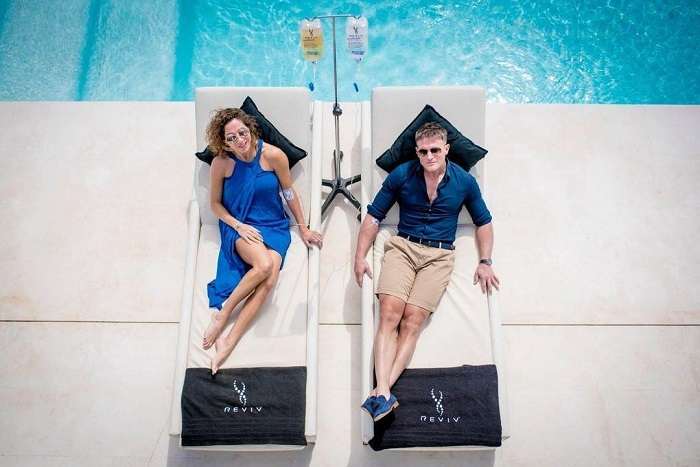 IV Therapy's merits
IV therapy outcomes providing body with vitamins and minerals through eating or supplements thanks to:
100% nutrients absorbed without nutrient loss during digestion process.
The vitamin and mineral amount infused into bodies are prescribed by doctors, which optimized the effectiveness individually
30-60 minute treatment session helps customer to save their time yet ensure the effectiveness.
Doctor check customer's health and design a individualized treatment protocol that suits each customer's health condition.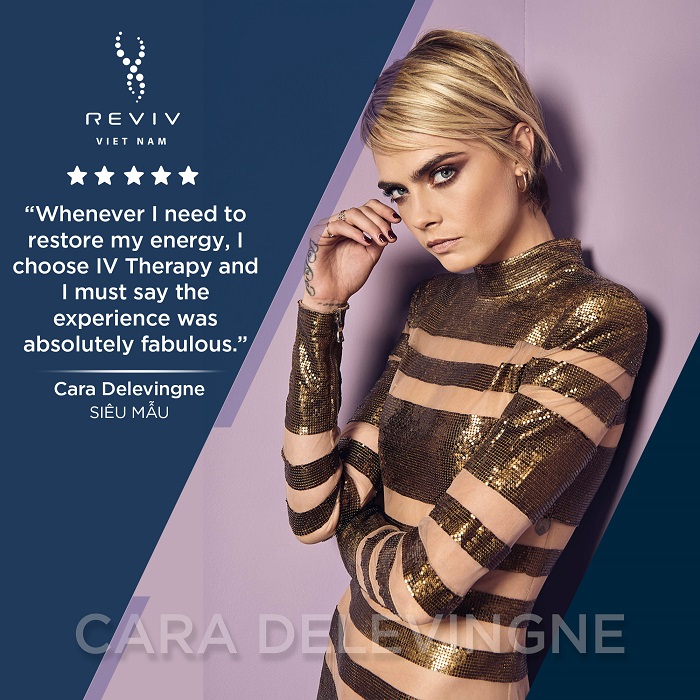 IV Therapy satisfied many Hollywood stars
Reviv – an pioneer and leader of IV Therapy globally  
Being an pioneer of IV Therapy, REVIV has presented in more than 45 countries and launched 159 branches. REVIV IV Therapy is praised by reliable media channels such as NBC News, Elle magazine, Marie Claire (HongKong version), DailyMail (the UK), Mirror Magazine, Manchester Evening News, LifestyleAsia…etc.
Moreover, IV Therapy is trusted by Hollywood stars who promoted it to be a new health care solution trend. Some of them are Rihanna, Cara Delevingne, Chrissy Teigen, Kelly Osbourne,  Rita Ora, Simon Cowell, Millie Mackffy, Hugo Taylor…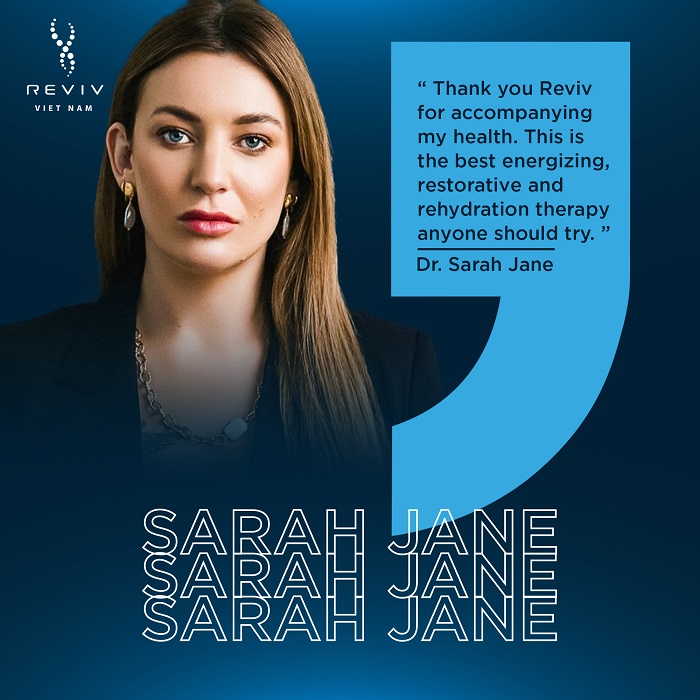 In Vietnam, more than 40 famous artists such as Lê Dương Bảo Lâm, Hòa Minzy, Erik, Lưu Hương Giang, Giang Hồng Ngọc, Thụy Vân,  Lê Anh, Mai Thu Huyền and so on has chosen IV Therapy as their health care method.
5 unique IV Therapies at REVIV help to improve the general health from the inside.
The REVIV Council including 40 doctors in the USA has searched and developed 5 unique IV treatment formulas:
Vitaglow supplements the body with anti-oxidants Glutathione and NAC, Vitamin C, minerals; flush out the toxic substances accumulated inside the body due to consumption of beers, alcohol and contaminated foods, smoking, exposure to heavy metals, dust; lower liver enzyme and lipid; stabilize the blood sugar and uric acid, reduce symptoms of hives, itchy rashes and fatigue.
Megaboost is a treatment for  insomnia, anxiety disorder, helps to reduce stress, fosters the production of antibody and boosts energy for a healthy body and fast recovery; enhances the ability to focus, memory and brain health.
Hydromax combines antioxidants, electrolytes, mineral salts for dehydration avoidance and body detoxification; helps the body have a faster recovery and sustainable and optimal physical maintenance; enhances the immune system, reduces fatigue, moisturizes the skin.
Ultraviv supplements the body with Vitamin B, C, mineral, antioxidants (NAC), and electrolytes; helps to rejuvenate, nurtures the body, improves the general health and body flexibility.
Royal Flush is the most comprehensive package offering the combination of Ultraviv, Megaboost and Vitaglow; is highly suitable for patients experiencing food-poisoning, flu, fatigue, tiredness, and those who desire to improve their general health.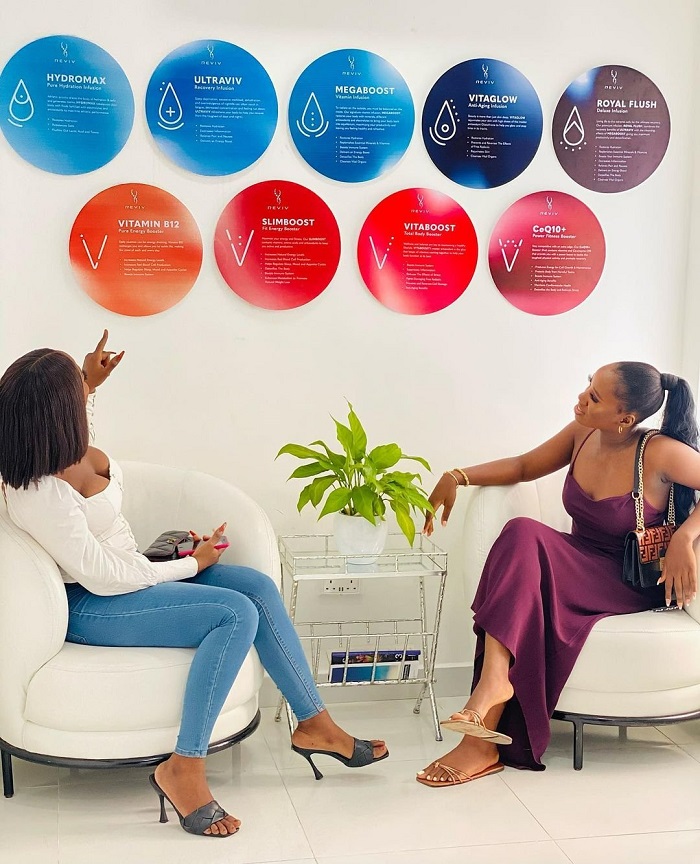 Do not hesitate to contact REVIV Vietnam for a consultation on a suitable treatment for your health.
Fanpage: facebook.com/Reviv.vietnam
Website: revivme.com
Website VietNam: reviv.com.vn
Hotline: 1800 58 58 22.
Tin tức liên quan
Tin tức & sự kiện